We have several different banner stands in stock and available to ship. We print your banner right here in our facilities and have your custom product ready to ship in as little as 2-business days.
· For large orders (12 or more) call for a quote
· Manufacturing time: 2-5 business days
MARVELOUS RETRACTOR DISPLAY | #MARVELOUS A-E
Our Marvelous Retractor Displays are affordable and have a light-duty mechanism making them appropriate for temporary displays and promotions. There are five different sizes, two material options and each comes with a custom graphic banner and a nylon carrying case.
ALPHA TELESCOPING RETRACTOR DISPLAY | #ALPHA
The Alpha Telescoping Retractor Display is an affordable and adjustable banner stand solidly built for long-term and extended use. A custom graphic banner and carrying case is included.
XIAN X-STAND & BANNER DISPLAY | #XIAN
The Xian is our most affordable banner stand. Everything, including a custom graphic banner, set-up charges and a carrying case are included in the low prices. It sets up easily in seconds and makes the perfect temporary display.
Manufacturing Time - 2 Business Days
SYNCH RETRACTOR DISPLAY | #SYNCH
If you need to change your banner for different promotions, this is the retractor display for you. One cartridge with a custom graphic banner comes with the display, but you can buy as many different cartridges as you need and change your advertising in a snap!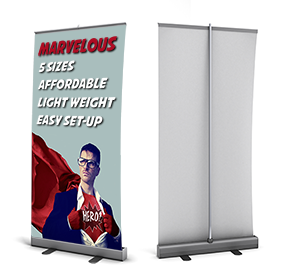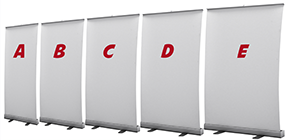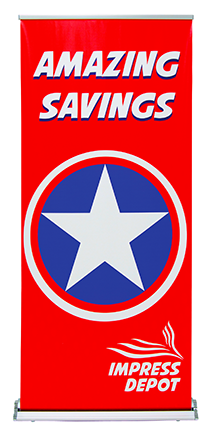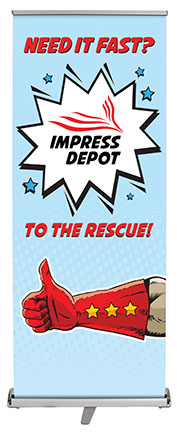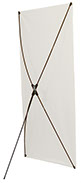 SPECTRA TELESCOPING RETRACTOR DISPLAY | #SPECTRA
Our Spectra and Spectra-XL Telescoping Retractor Displays are sturdy and made with high quality materials making them the right display for long term or frequent use. They feature a telescoping pole to adjust the height. Includes custom graphic banner and carrying case.
& SPECTRA-XL TELESCOPING RETRACTOR DISPLAY | #SPECTRA-XL